It was serendipity.
Mike and Beth Sylvester were thinking about renovating their home to make it ADA (Americans with Disabilities) accessible at the same time Mike and Regina Belmont, Beth's parents, were thinking about selling their home and down sizing. It wasn't long before they realized they were looking at a great opportunity.
"I always told my parents that I wanted to take care of them as they grew older and needed assistance," Beth said. "It just seems natural to me – they nurtured me when I was unable to care for myself; how could I not do the same for them?"
After talking it over, they all agreed: they would expand Mike and Beth's renovation plans and design one home for both families ― a multi-generational dwelling. Beth's sister, who knew Mike and Beth were committed to improving the energy efficiency of their home as well as its functionality, was familiar with Stitt and its commitment to sustainable home building. She suggested Beth contact the company to explore their options.
Why Renovate?
During the initial brainstorm, Beth explained why they wanted to renovate instead of build something new somewhere else. "We have a huge lot so there was plenty of space, and we absolutely love our location. We're two blocks from a beautiful public park, and are in walking distance to the University, the Arts Center, as well as dining and shopping," she said. With that decision made, the next step was to identify the 'must haves' for both families. Blending those requirements and creating the right amount of private space and shared access was paramount to the project's success.
Must Haves for Sylvester Family
The 'must haves' for the Sylvesters included upgrading their master bedroom and bathroom to make them accessible by wheel chair or walker. They also wanted to replace their single-pane windows with Energy Star® upgrades, and install skylights and a sun tunnel for natural daylighting.
"We were committed to building for maximum energy efficiency due to our personal convictions," Beth said. "The way we built makes sense not only from a perspective of controlling costs over the long term, but also helps us make our personal contribution to protecting the environment."
The renovation also allowed the family to upgrade their kitchen.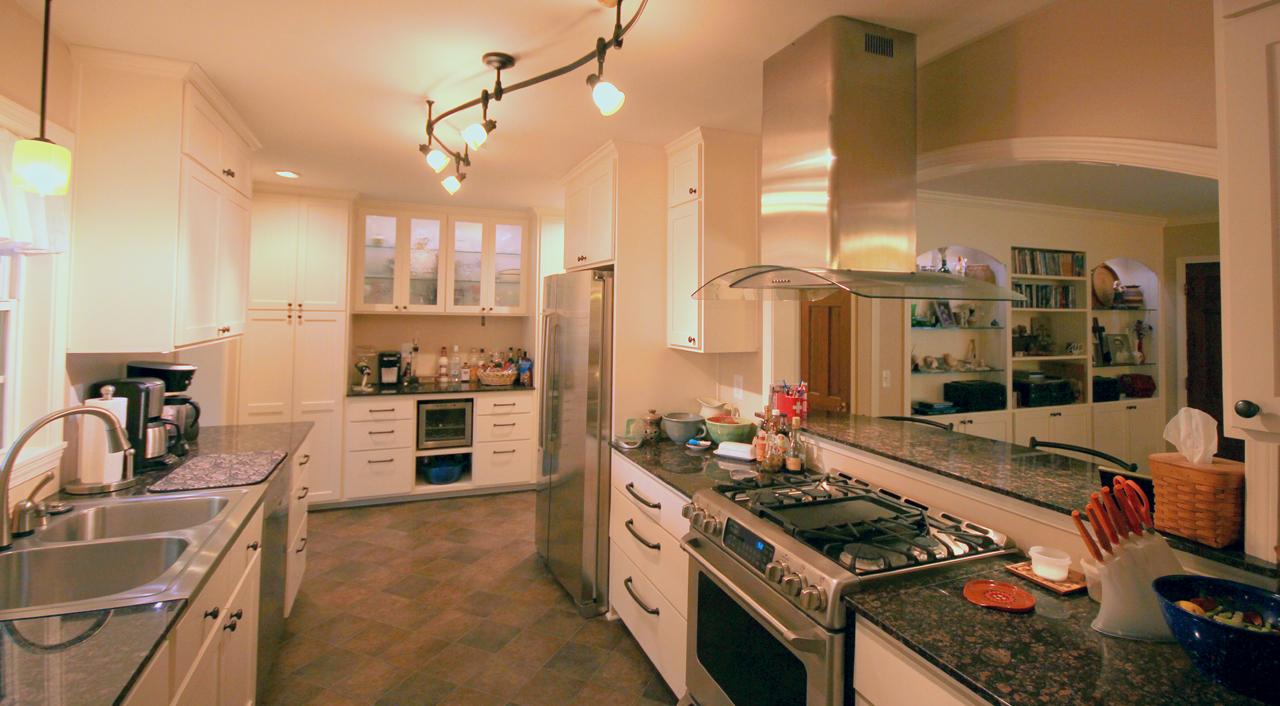 Must Haves for Belmont Family
'Must haves' for the Belmonts meant a self-sufficient apartment with separate entry and easy access to the families' shared spaces. "We are both in our seventies," Mike said, "and our goal is to 'age in place' having as much autonomy as we are able."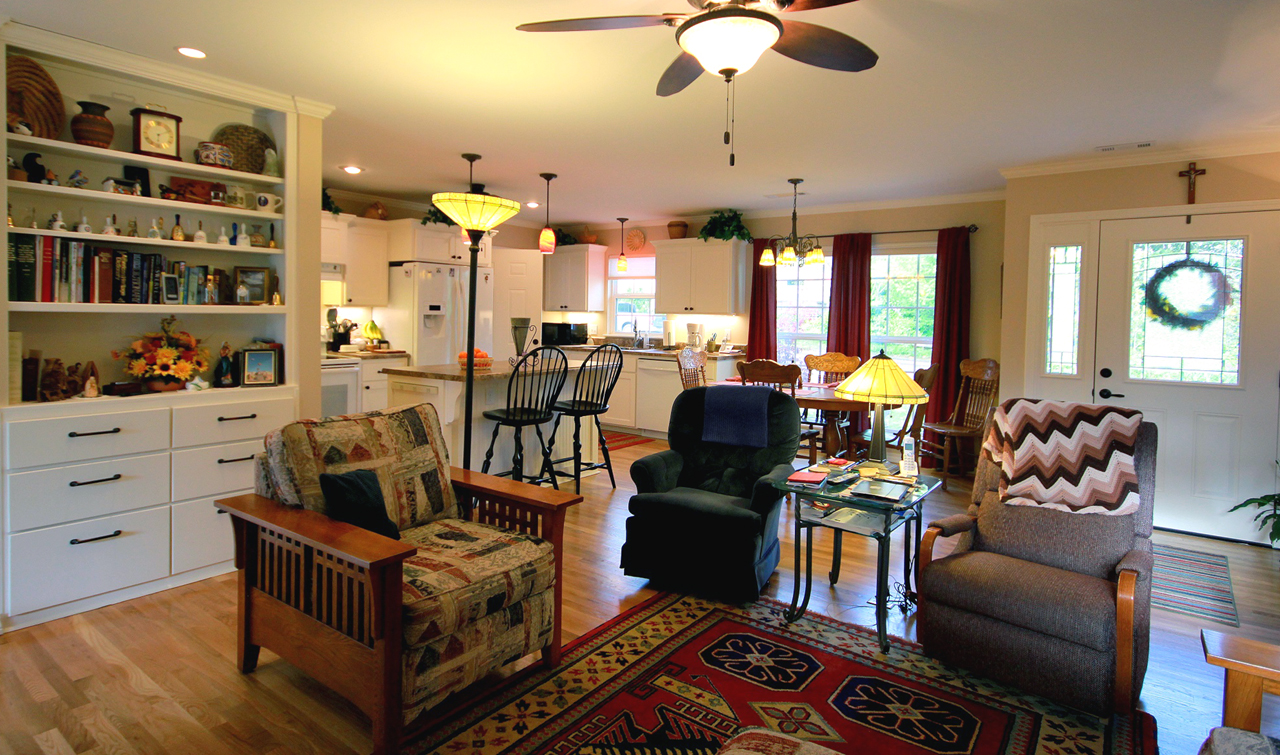 The Belmonts also wanted a solar electric system!
"We wanted to save on our monthly bills, protect the environment, and reduce our carbon footprint," Regina said about the solar request.
Additional Space and Connecting Doorway
The renovation changed the original footprint of the house from a rectangle into an 'L' shape, and it increased the overall size from 1,490 square feet to 3,115 square feet of heated and cooled space. The two living spaces connect between the dining room in the original house and the pantry/kitchen in the apartment.
The single car garage was expanded to accommodate three, and the covered deck was positioned to allow easy access from both living spaces. All of the entrances into the house were made ADA accessible. As with many renovations, the deconstruction stage uncovered a few structural and mechanical deficiencies in the original building that needed to be addressed. Mike and Beth took the delays and repairs in stride. They lived in the house throughout the renovation and made adjustments as necessary to accommodate the construction.
Balancing Privacy and Togetherness
The renovation was a success for both families. "I think we really got it right in terms of balancing privacy and togetherness," Beth said. "I love being able to share space with my mom and dad. We each have our own dining spaces, but we share meals regularly, eating on whichever side of the house makes the most sense depending on who is doing most of the food prep or how many people we have. We also have shared space on the deck for outdoor cooking and dining."
Any Advice?
Beth's response summed it up well: "My advice to others contemplating a renovation and addition for multi-generational living is patience, patience, patience. It takes time. Be prepared for that.
Also, talk as a family to know what each family wants and then consult with the Stitt team. They are the experts and they offered great ideas and suggestions to accomplish our goals. We had our thoughts about how to design the space, but Suzanne provided some even better ones. She really listened and understood what we wanted to accomplish, and her thoughtful design choices are evident throughout the house."